Knife sharpening & maintenance
Naniwa Combination Stones
A Naniwa Combination Stone is a relatively soft Japanese water stone of excellent quality with two sharpening sides. This makes it the successor of the old Work Stone.
Because it wears slowly, unused sharpening grits are constantly brought to the surface. So the sharpening stone remains clean. Because the Combination Stone is quite thick it will still last for many years. The Combination Stone has to be submerged in water for a few minutes so it is saturated with water before it can be used.
The Naniwa Combination stones are the successor of the Naniwa Work stones. Naniwa improved the binding agent keeping the abrasive together. Every aspect of the production of Naniwa sharpening stones is done by Naniwa. Very strict quality control guarantees a consistent high quality.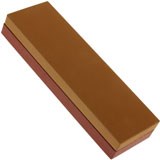 <![if !IE]> <![endif]>