Outdoor & Gear
Wetterlings: hand-forged axes since 1880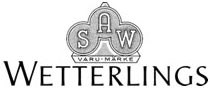 Wetterlings forges axes since 1880. The company has a history that goes back further than that of virtually any competitor.
A lot of work is still done manually to provide the top quality which Wetterlings is famous for. Since the start of the company, Wetterlings has grown considerably and after that become much smaller again. The constant factor is the product quality. Which stands on a particularly high level.
Extremely durable
The Wetterlings axe heads are so durable, that in the Wetterlings philosophy, you do not own their axe; you pass it on through history. Nevertheless, as long as you are the caretaker of the axe, you can put him to as many heavy tasks as you want. That's what it's intended for!
Hickory handles
The handles of Wetterlings axes are made of American Hickory. This wood comes from a tree in the walnut family. The most important characteristic is that it's particularly strong and resilient. This makes it extremely suitable to use as an axe handle. The handles are clamped into the axe head with a solid wooden or metal wedge. The handle is untreated. Lacquered wood is less comfortable for your hands, even though it looks beautiful in the shop. Wood is a natural product. That means it is very important that each handle is checked individually.

<![if !IE]> <![endif]>