Nitecore NPB4 | Expert Review by Koen van der Jagt
Portable power is essential in our age of energy-guzzling smartphones, tablets and other rechargeable devices. Is there a power bank that you can count on, one that won't give up after a single charging session, and is also completely waterproof? Nitecore claims such a power bank: allow me to introduce the NPB4!
First impressions:
The NPB4's attractive box is fairly substantial, already indicating that this power bank is a heavy hitter. That isn't too surprising, since it gets its energy from no less than four 21700 batteries, and those are big guys with a high capacity. Totally in line with the current trend, it doesn't come with a charger; a pity, because it does make a difference (in terms of time) whether you charge the NPB4 with a years-old smartphone charger or with a modern high-capacity plug.
The NPB4 is a hefty boy — mainly in terms of weight, because it is actually quite compact for a 20,000 mAh power bank. It fits nicely in the hand, but during longer use it's better to place it on the non-slip feet or carry it in the supplied holster, attached to your belt or shoulder strap. We can see some notable details: a "touch button" that allows you to check the battery status and two extendable hooks that you don't read anything about in the manual. In my opinion, an extra way to attach the NPB4. On the top is where we find what a power bank is all about: the connections. Of the four ports in total, you can use two as input and three as output, which means you can charge up to three devices at the same time. The ports are spaced far enough apart that the plugs don't get in each other's way. As far as build quality and finish are concerned, there's nothing to criticize about this product; this power bank feels solid, with no creaks or weak spots.
In practical terms:
It takes very little effort for the user to get the Nitecore NPB4 up and running, it's simply "plug and play". You can charge via micro-USB or USB-C — I prefer the latter because of the speed, since it takes a fairly long while (about four hours) before the power bank is fully charged. Something to keep in mind; make sure to charge it during the night, for instance. Also important: this type of battery stays in optimum condition when you top it up at least once every quarter, regardless of whether you've used the power bank during that time.
Once charged, the Nitecore NPB4 is a reliable power station that can fully charge my Samsung S series four to five times without any problems and is also powerful enough to recharge a totally empty phone while you're using it at the same time. Charging multiple devices at the same time is also possible without any problems, but it does come at the expense of the charging speed per connected device. During the charging session, the blue indicator lights indicate the remaining power; when the last light flashes it means the NPB4 is almost empty.
One of the NPB4's special features is that it is waterproof (IP68) without the charging ports being covered by rubbers. I was very curious about this, so my first test was whether this power bank could withstand a heavy rain shower. So, time to head outside and let the power bank get wet. It didn't budge... Although the manufacturer has used o-rings to make the charging ports waterproof, it's wise to dry the ports before plugging something in afterwards. After the rain shower, the NPB4 still worked just like it did before, which means it passed this test with flying colours!
What takes the NPB4 to the next level is using it underwater! I took it to the local river and threw the power bank, plus charging cable and all, into the water. And yes, my (also waterproof) smartphone charged as usual while the NPB4 was on the riverbed. So it's definitely fair to say that this power bank can still work underwater. Make sure that you don't plug the plugs in underwater: that won't do your equipment any good, and can cause malfunctions. It's also not the intention for the power bank to be used underwater for a long time — according to the manufacturer, half an hour is the maximum. Even though I found this test a bit nerve-wracking, this Nitecore powerhouse triumphed again!
Here's what I like about the Nitecore NPB4:
Its endurance is a strong point; you just know that you can charge your (large) smartphone or tablet several times in a row, even when you're out in the middle of nowhere. It's also good to know that this power bank can hold its own in all weather seasons — the NPB4 doesn't care if it's snowing or raining, and it even keeps charging underwater.
Things that could be better:
In my opinion, the Nitecore NPB4 actually has no weak points. In terms of equipment, I'm missing a good charger; lots of people are still using a (phone) charger with an output between 1A and 2A, which is actually much too meagre for this power bank. I also find the blue colours that Nitecore uses for battery status less clear than the "traditional" red and green.
Conclusion:
Admittedly, the NPB4 is not a bargain. On the other hand, it's a super handy accessory that quickly becomes indispensable. Whether you're sitting in the garden with an almost-empty phone, or spending time with several people on the beach or on a boat — with the NPB4, you don't have to worry about whether your phone or tablet will survive without a mains power socket to hand. Even for walks, it isn't too heavy to carry in or on your backpack. Add to that its user-friendliness and the fact that it's waterproof, and you'll soon realise that you've made a great purchase!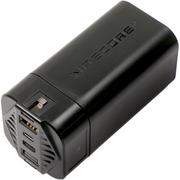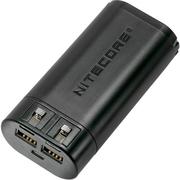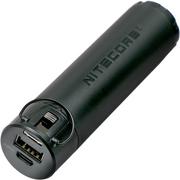 Koen van der Jagt
Ever since he could walk Koen has been interested in lights, wires and batteries. As a child he was always working with dyno torches, bike lights and electrical boxes. The krypton and halogen lights were replaced by LED lights. A couple of years ago he discovered the 'professional' stuff. His first brands were Led Lenser and Fenix. Photography is also one of his hobbies. In addition to nature and meteorology Koen loves to show others what a light can do and what its beam looks like at night. Koen's reviews can often be found on forums such as candlepowerforums.com and taschenlampen-forum.de. Throughout the years Koen has collected lights in practically any category: from small and compact to enormous powerhouses.