Designer
Ken Onion: inventor of the SpeedSafe-assisted opening
Ken Onion is an American award-winning knife maker and his designs can only be described with one word: 'innovative'. Just think about it for a second. A simple pocket knife is comprised of a blade and two handles. Keeping that in mind you might assume that anything you could possibly do with these three parts has been done already. Right? You are very wrong, because Ken is always able to come up with new ideas. He simply continues to innovate and is always creative.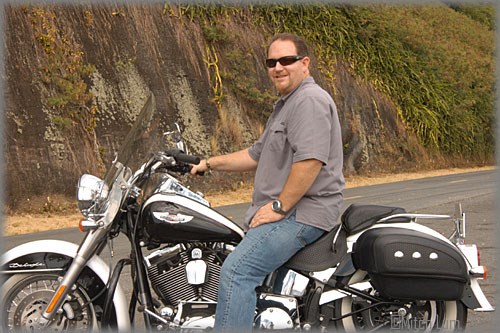 Ken Onion
Full name
Kenneth J. Onion
Born
16 January 1963
Place of Birth
Wellington, Ohio, United States
Place of residence
Kaneohe, Hawaii
Knife maker since
November 1991
Cooperated with
Zero Tolerance, Kershaw, Work Sharp, CRKT
Over the years Ken has introduced designs for Kershaw and Zero Tolerance that combine premium materials, unique forms and a recognizable handles. The results are knives that are not only visually spectacular but also superior in both function and ergonomics. Ken Onion's goal is designing products that are reliable, year after year. And, well, let's face it, he has done pretty well so far!
Awards
Ken Onion is recognized as one of the most innovative and successful knife designers of all times. He is even the youngest to ever be featured in the Blade Magazine hall of fame. In the knife industry this is the highest distinction you can receive. In total Onion has won the most Blade Show awards of all knife makers in the world. He, for instance, received an award for his Field Strip-technology. However, his most important invention has to be the SpeedSafe-assisted opening. This revolution in opening systems has left him with numerous awards.
The inventor of the SpeedSafe-assisted opening
Ken Onion started designing for Kershaw in 1998 and introduced a number of the most popular Kershaw models on the market today. Think, for instance, of the models with the innovative SpeedSafe-assisted opening. A system that enables the user to easily open the blade using only one hand. It is not only safe, but also very legal! And it doesn't end there because closing the knife can also be done using one hand. It is, therefore, a piece of cake for both left and right-handed users. Also important to know is that the SpeedSafe-knives are not automatically opening knives which is why this opening system is legal in many countries.
How does the SpeedSafe work?
The most important aspect of the SpeedSafe mechanism is the spring. Why? Because it is what keeps the blade closed. However, you only need to apply a little pressure on the flipper or thumb stud to overcome the resistance of the spring after which the blade is released from the handle. In a locked position that is. All there is left to do then is use the knife.
Introducing the SpeedSafe
In 1998 Kershaw introduced the first Ken Onion knives with the SpeedSafe-opening after which he received a patent for this mechanism. It didn't take long before the knives were flying off the figurative shelves. Today many other knife makers also introduce knives with an assisted opening. However, the immense popularity and the proven sustainability of the original will never be matched. This confirms how special and innovative this system actually is.
Today many other knife makers also introduce knives with an assisted opening. However, the immense popularity and the proven sustainability of the original will never be matched. This confirms how special and innovative this system actually is.
Inventor of the Field Strip Technology
Ten years ago Ken started pointing out that the knife industry had fallen behind. Especially when it came to maintaining a pocket knife. As you might know, dirt in between the handles and the blade can and should only be considered as a small disaster. Especially when you realize that the longer this dirt stays in place the sooner your knife won't open or close so smoothly anymore. In the end you are left with a knife that needs to be disassembled. However, this is quite difficult, not to mention very time consuming. And it doesn't even end here, because afterwards you also need to put it back together again.
Ken felt it was time to fix this problem and came up with the Field Strip Technology. A technology which ensures that you can easily disassemble, clean, and reassemble your knife. Without being left with blade play. And, most importantly: without using tools. Simply brilliant!
The system couldn't be easier. The knife is divided into three parts: both parts of the handle, and the blade. First, disassemble your knife and clean the individual parts. Second, and finally (yes finally) simply put the mechanism back together until the handles meet. And there you go, from now on you will be able to clean you entire knife with little effort.
Zero Tolerance designs
But it doesn't end there because Ken also designed knives for the American brand Zero Tolerance in cooperation with knife maker Mick Strider. The knives are completely manufactured in the United States, and are very loved. With characterizing features such as the striking, bold shapes. In addition, the materials used are very solid and the knives are 'built like tanks'. A couple of knives, amongst which the 0350 are even enhanced with the characteristic Ken Onion SpeedSafe assisted opening. The Zero Tolerance is what it is today because of this collection.
The Work Sharp Ken Onion edition
Fortunately for us Ken doesn't only focus on knives. In cooperation with Work Sharp he developed the Work Sharp Ken Onion edition: a multi-functional electric knife sharpener, perfect for sharpening knives with a smooth and serrated blade. But that is not all, it can also tackle scissors, shovels, and axes. This machine is, to say the least, a small professional belt grinder with a guidance system that will enable you to sharpen knives with a 15 to 30 degrees angle. As a result the reach is large enough to sharpen thin Japanese chef's knives but also much thicker outdoor knives. The system can be adjusted to meet all your demands with the useful accessories. It doesn't occur often that a knife maker is this involved in designing a sharpening machine. But, let's be honest, Ken Onion is a remarkable exception to the rule.
The man behind the knives: Ken Onion
Ken Onion was born on January the sixteenth 1963 in Wellington Ohio, United States where he spent his youth on a farm. A place where dreams came true as it was the place where he became interested in knives and started collecting them. A collection Ken believed should be comprised of old knives, and well, basically anything he could find because it is what gave them a story, a history.

Soon Ken felt that he could improve the designs. That he could do better. However, he knew nothing of the knife industry. At least, not until 1989 when he found a magazine with knife illustrations in a local shop. From that moment on Ken Onion started taking matters into his own hands.

Not long after Onion met a local knife maker called Stan Fuijisaka in Hawaii. The two became friends and Onion was able to learn the tricks of the trade from Stanley. Teachings that left him with his first knife in 1991. Five years later Ken met Kershaw's Doug Flagg. During their encounter Ken told Doug what, according to him, a good opening mechanism should look like. It didn't take much to convince Doug, it was a you-had-me-at situation, and soon after both gentlemen signed a contract that would help them make the idea become a reality. The SpeedSafe assisted opening was born. We could, of course go on, but why would we because the rest is history.

<![if !IE]> <![endif]>