Wicked Edge Balsa Strops Pack, 5 and 3,5 microns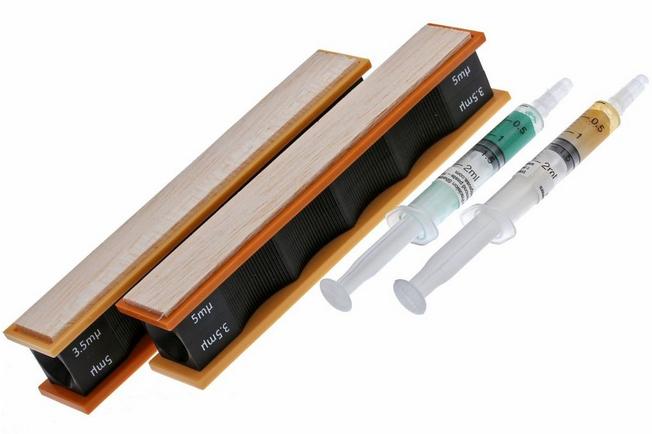 Article number WIWE053.5BAL
Wicked Edge Balsa Strops Pack, 5 and 3,5 microns
All prices include VAT, fees and charges
Fixed shipping rate of £8.50 for all orders
We ship from the Netherlands
Our customers give us a 4.7/5
Full description
The Wicked Edge Strops balsa wood, 5 and 3.5 micron are two wooden strops for the Wicked Edge sharpening systems. The sharpening stones have a plastic base with two wooden sheets on top. This set is comprised of two different types of stropping compound of 5 and 3.5 micron.
Reviews
Anoniem, Bristol
Monday, 4 June 2018
I have good experience with leather stropping, though admittedly the use of balsa is new to me. However, I broke with manly tradition and followed the instructions. I was stropping an M390 steel knife after progressing through the grits up to the WE 1500 grit diamond stones. The lapping paste on balsa had no noticeable effect whatsoever, save for taking off the diamond paste, which did not embed into the balsa strops as the instructions described. This may be because Wicked Edge seems to have an issue in formulating the correct micron transition from diamond stones through to stropping pastes and lapping films. I like the diamond stones of the Wicked Edge system, though they may well be coarser in their nominated grit than waterstones, and while they say their 1500 grit diamond stones are 3 micron, they are more like 8 micron, which seems consistent with WE's own recommendation to use 6 micron lapping films following the 1500 grit ("3 micron") stones (hence my choice of the nearest 5 micron paste), which shouldn't make any sense for diamond abrasives where the micron rating is more certain than the mean/weighted average grit size rating of waterstones. Frankly the balsa strops have been a complete write-off and waste of money for me on first use.
Reaction by Knivesandtools
We have contacted with Wicked Edge directly about this: The paste can get a little dry and thick, which will cause it to scrape off instead of absorbing into the strop material. A little mist of isopropyl alcohol really helps break down the paste so that the diamonds embed and don't get scraped off. As to why we often recommend coarser grits for strops and films following diamond stones, it's because the substrate is soft on both the films and strops and the majority of the diamond particles are pushed into the substrate and only a small portion of each stone is contacting the knife, which gives the strop an effective grit rating of a much smaller particle. So yes, the particles are sometimes larger, but they leave a finer result.
---
Specifications
Features & functions
Wicked Edge field and sport, Wicked Edge field and sport pro, Wicked Edge generation 3, Wicked Edge precision sharpener, Wicked Edge pro pack 1, Wicked Edge pro pack 2
Extra fine (3000-5000), Fine (1000-3000)
Article number WIWE053.5BAL
Wicked Edge Balsa Strops Pack, 5 and 3,5 microns
All prices include VAT, fees and charges
Fixed shipping rate of £8.50 for all orders
We ship from the Netherlands
Our customers give us a 4.7/5