Step 1: First, make sure the head is tightly secured on the handle. Check how sharp it is by hitting the axe against the wood softly. When it stays put inside the wood, you have a sharp splitting axe!
Step 2: The security check. Create a little space around you. Is the chopping block not higher than your knees and placed on a solid surface? Of course you are wearing good gloves and safety shoes.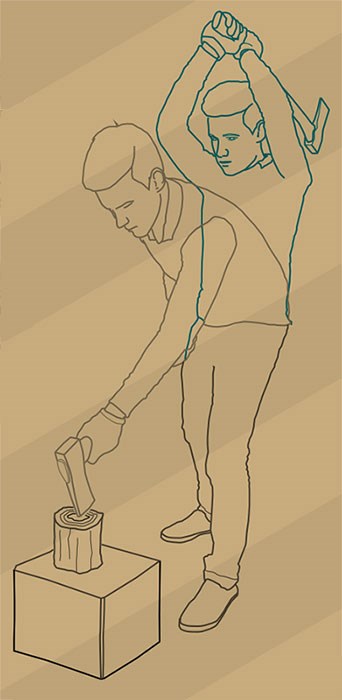 Step 3: Search for cracks in the block of wood because that's where you want to strike with your axe. Aim on the tear in the wood, but keep close to the edge so the block will break easier.
Step 4: Make sure your feet are in the right position. Pull your hand backwards from the axe head to the position where your other hand is. At the same time you lift your axe and start chopping! It may be that the axe stays stuck inside the wood, but then you can remove it with a wedge.
Did it work? Now take on the next block!
PRO-TIP: Use a WoodStrapper to keep the wood together.
---
<![if !IE]> <![endif]>