Carryosity #5: Urban EDC Compact Edition
Everybody owns an every day carry: an EDC. These are all the tools you carry with you on a daily basis. An EDC says something about who you are as a person, and how prepared you are on a daily basis. It is also great to match all your EDC items. It is quite tricky to assemble an EDC. In Carryosity we select the perfect EDC for you based on the most popular themes and brands.
An urban EDC is an every day carry for in urban surroundings. Think of a city, but also a quiet village. These places ask for well thought out and a discrete every day carry. One that is comprised of small items and friendly-looking EDC pocket knives. All to make sure you don't cause a commotion when you peel a piece of fruit on a park bench. In this Carryosity compact edition we focus on compact EDC items. They are compact but still incredibly functional. As such you leave your house with light-weight tools, but are still prepared for everything that might come your way.
Items in this Carryosity #5
1. Skerper Pocket Stone
With so many tools in your pocket a great sharpening stone is also key. After all, your gear needs to stay sharp. Right? Sharpening stones, however, are very big and often need water before or during use. Not the Skerper Pocket Stone. As the name already suggests this sharpening stone was made to carry with you on a daily basis. Because of its compact size it will fit in every pocket or EDC pouch. The Skerper Pocket Stone has two sides. One side is made from 1000 grit ceramics. The other side is a diamond-coated 360 grit sharpening stone. With the Skerper Pocket Stone blunt pocket knives will be a thing of the past!
2. MKM Root Titanium Natural Canvas Micarta
The MKM Root is a small but great pocket knife for daily tasks. The first thing you notice is the modern, industrial look and feel. Unique and characterizing for the knives from this Italian brand. This knife is made from only premium materials. A Böhler M390 steel blade and a titanium handle. This version is enhanced with a natural canvas micarta inlay. You open the blade with two fingers. The knife is enhanced with a slipjoint. As such the Root is not completely locked when opened. Because it doesn't contain a 'real' lock and is really compact this knife can legally be carried in many places.
3. Gerber Prybrid Utility Solid State 31-003746 Grey
The Gerber Prybrid Utility Solid State is very versatile. Characterizing about this knife is that the blade is not the most important tool. As the name might already suggest it is namely the pry-bar at the end of the handle. With it you pry open things you would rather not use your new MKM Root for. But also opening a beer, stripping electrical wires, tightening a screw or even removing a nail will be a piece of cake. In short: a lot of practical tools in a compact package! Perfect when you work in a warehouse, for instance.
Promo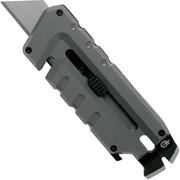 Promo