Helle Kletten K: review from a Bushcrafter's perspective, by Padraig Croke
When Knivesandtools asked me to take a look at the new Helle Kletten K, I was very excited. This Norwegian knife company has interested me for a while now, after seeing more and more people carrying their tools in the field, and I wanted to see for myself what the hype was about.
What interested me most about this knife however, is it's breakaway concept from more traditional folding blades out there, seeming more like a minified version of what I would normally carry. It's layout and ergonomic choices, not to mention its blade type, are by all accounts, specs that you would normally expect to find on a fixed blade, just smaller! So let's take a look at this tidy little folder and see how it performs in the field.
Why do I carry a folder?
There are many reasons to carry a folder, and there's a lot to be said for having a simple tool on your person at all times. Luckily for us, there is a blade out there to suit everyone, and we all have our preferences. Some people need more nuanced tools such as awls or files and therefore prefer to carry a SAK or a Leatherman over a folder. And if you are carrying a folder, then comes further nuance in our choice! Are you an EDC type carrier, preferring a more tactical blade like a Spyderco Paramilitary. Or maybe your job requires a tougher blade and you're carrying a more substantial folder like the Benchmade Bugout. There is literally a tool for everyone.
For me it's usually that I'm either working outside on some DIY chores or around the canoe center where I work, or I need a smaller blade to supplement my belt knife when out camping. In the majority of situations I find myself in, my belt knife is used to establish my main camp. Be that for firewood processing, sleep system setup, building pot hangers for the cooking that night, whatever the case may be. However, after this, my main knife tends to be put away. Sometimes I'll even throw it back in the backpack. Sacrilege! I know... But this is where my multitool or pocket knife will come in. Usually only the smaller tasks like opening food packaging, slicing vegetables or making utensils are left to do at camp. Why carry a 4+ inch belt knife on you all night when you're most likely not going to need it again? The same can be said of things like ferro rods and dump pouches by the way. It may be controversial, but personally I find these things quite unnecessary and frankly cumbersome to be carrying on my belt all evening. I like to feel a little more free and nimble when moving around camp or further afield when I'm collecting water or gathering more firewood.
Enter the Helle Kletten
As we have mentioned above, there is a tool out there for everyone. It would be safe to say that most pocket knives out there are not going to be as good with woodwork and craft-type tasks as a fixed scandi blade is going to be. In my experience this most often comes down to two things; the ergonomics and thickness of the scales, and the blades grind. With the exception of maybe the Lars Fält folder from Casström, I had not seen a pocket knife with a sturdy Scandinavian grind until the Kletten came along. This makes a huge difference when you need your knife for woodwork, as a scandi grind is far more effective in material removal than a flat grind, pushing the wood away from the blades' edge, and giving your knife space to move and remove the wood from the cut. Things like feather sticks and notches are arguably much easier, especially for a beginner, with a scandi edge. Of course people can be absolutely proficient with both, and I have seen surgeon-like precision with saber and flat grind knives. But, by and large, the reason most bushcraft blades are scandi ground is for this reason. It will have its drawbacks of course, and like anything, these are decisions we have to make for ourselves. Scandi knives are not great for food processing or hunting and skinning tasks. So it's worth noting this when you are making your choices.
Build Quality and Ergonomics
This for me was one of the major factors in the Klettens build. This solid little 5 cm locking blade is absolutely perfect for light work around camp. The locking blade is easily accessible, opening with the nice nail nick to a satisfying click of the blade as it locks in place. I find it in my hand absently all the time, just opening and closing it because it's so satisfying! It's even possible to open with one hand, pinching the blade between your thumb and middle finger. The fact that it locks ensures that you have a very secure tool in your hand, and there is no fear of slicing your fingers with it. Its laminated stainless steel came razor sharp out of the box, and it has been extremely easy to sharpen with a pocket stone or benchstone, due to the fact that you can sit almost the entire working edge of the blade on the stone, popping back in no time at all. The only thing I would add here is a 90 degree spine so as to make it usable with a firesteel, although that being said, the spine's lack of this makes it so nice to use in the hand for prolonged use, especially with push cuts. Also, although this is somewhat of a hack and would probably only be useful as a last resort, the lock release in the middle of the handle is plenty sharp enough to strike a firesteel off… if you ever needed that.
Scales
The scales on my version are made from 'Kebony' wood, a Norwegian invention that colours and stabilizes wood with residual material from biomass production. As such, the material is rock-solid and sustainable. In this case a piece of maple was used. During the Kebony process this wood became very dark. In time, however, the wood will become lighter, and turn slightly grey. For this reason it's recommended to occasionally add a couple drops of oil to the handle and you are good to go! The star screws used to secure the handles are not very good however. They are too soft and already one of mine has rounded out on me after only a few times. Another thing to note is that the handles have been sanded down after the screw was put in place, so unless you get the position of the screw to the exact same position they were before then you'll be left with an ever so slightly raised point on one side of the screw. This is not a deal breaker, and I don't intend to remove the scales any time soon. But this attention to detail has been overlooked in my opinion. At its price, this knife is by no means cheap… you would pay less for a good quality axe. This is one disappointing element of the Kletten that should be mentioned.
That being said, ergonomically the Kletten feels great in the hand. In my hand I can have it comfortably fit behind three of my fingers, with the swell on the end resting comfortably between my pinkie and ring finger, allowing me to properly close my fist for a secure full grip. Reversing this grip however, can be a little uncomfortable, and the area that would sit between my fingers now pushes into my palm a little. I guess this is a bit of a give and take, but I can't help but wonder if the handle shape was a little more generic, then it would work better in more varying grip positions. But by and large, it is a very comfortable tool to have in the hand for basic light work.
Presentation
Although this is not something you should really care about when choosing a knife for its usability, it is worth nothing that the Kletten does come in a beautifully presented cardboard tube, likening to a good bottle of whiskey. I do think that a lot of knife companies neglect the presentation of their knife, which is arguably quite important, particularly in the age of unboxing videos on YouTube. I also think presentation sets a certain expectation of quality for the end user. A cheap box to me indicates a cheap tool. Of course this has no bearing on the knife's usability… but every little helps. Inside the tube is a small booklet about Helle and their factory, a leather string long enough to use as a neck dangler (although I made a lanyard with mine instead) and a branded cotton cloth, presumably to clean your knife with. It's a nice little package overall and I think it would make for a great gift for someone because of that.
Conclusion
All in all, I think this is a lovely little blade that will see you well in the field. As mentioned, it's not the cheapest blade in the world, but I feel like the price tag is for the most part, justified. The solid quality locking joint and the fine steel make this blade quite a pleasure to use, and despite the minor details mentioned such as the screws, I think overall it's a fine choice.
Pros
Great steel, easy to sharpen and retains its edge well
Satisfying in the hand and comfortable to use
Locking mechanism is solid and robust
Nice presentation. Would make an ideal gift
Cons
Wood will discolour if not properly taken care of
Star screws are a little soft
The issue with the shape of the screws in the handle if removed and reapplied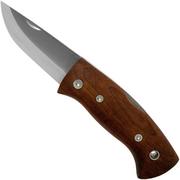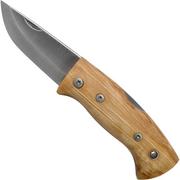 Padraig Croke
Padraig Croke is the host of the outdoors podcast Trial by Fire, which ran from 2018-2023. A graphic designer and photographer by day, as well as an avid outdoorsman and bushcraft enthusiast, when he's not writing for us he's usually out in the field making film or taking photographs.