News
Shot Show 2019: the newest Benchmade pocket knives
Benchmade also made an appearance at the 2019 Shot Show. With an enormous stand, dozens of employees and multiple new products they definitely wowed the crowds. Upon arrival we were happily welcomed by the Benchmade team and were given the opportunity to take a look at all new pocket knives with Hans Albing, the product line manager at Benchmade. It was an amazing opportunity!
The Benchmade Griptilian collection got a S30V steel upgrade
Big news! The Benchmade Griptilian collection will get a S30V steel upgrade. Initially Benchmade used 154CM steel. A great type of steel for daily use. S30V steel, however, is a lot more robust, stainless and retains its sharpness longer. Not too bad right? The new Griptilians could become a little more expensive than the 154CM steel version. Fortunately you don't have to worry. According to Benchmade it will only be a minor difference.
The Benchmade 560-1 Freek
Another famous model which was given an update is the Benchmade Freek. This new version of the Freek has been enhanced with a handle made from grey and black layered G10, instead of the grivory/versaflex handle. The blade also got an upgrade from CPM S30V steel to CPM M4 steel. An incredibly solid and hard type of steel. To add a little colour Benchmade added a thin red G10 liner on the inside of the handle. Red anodized aluminium standoffs keep the handle together. If you are already a fan of the original Freek collection, this robust version is something you will love as well!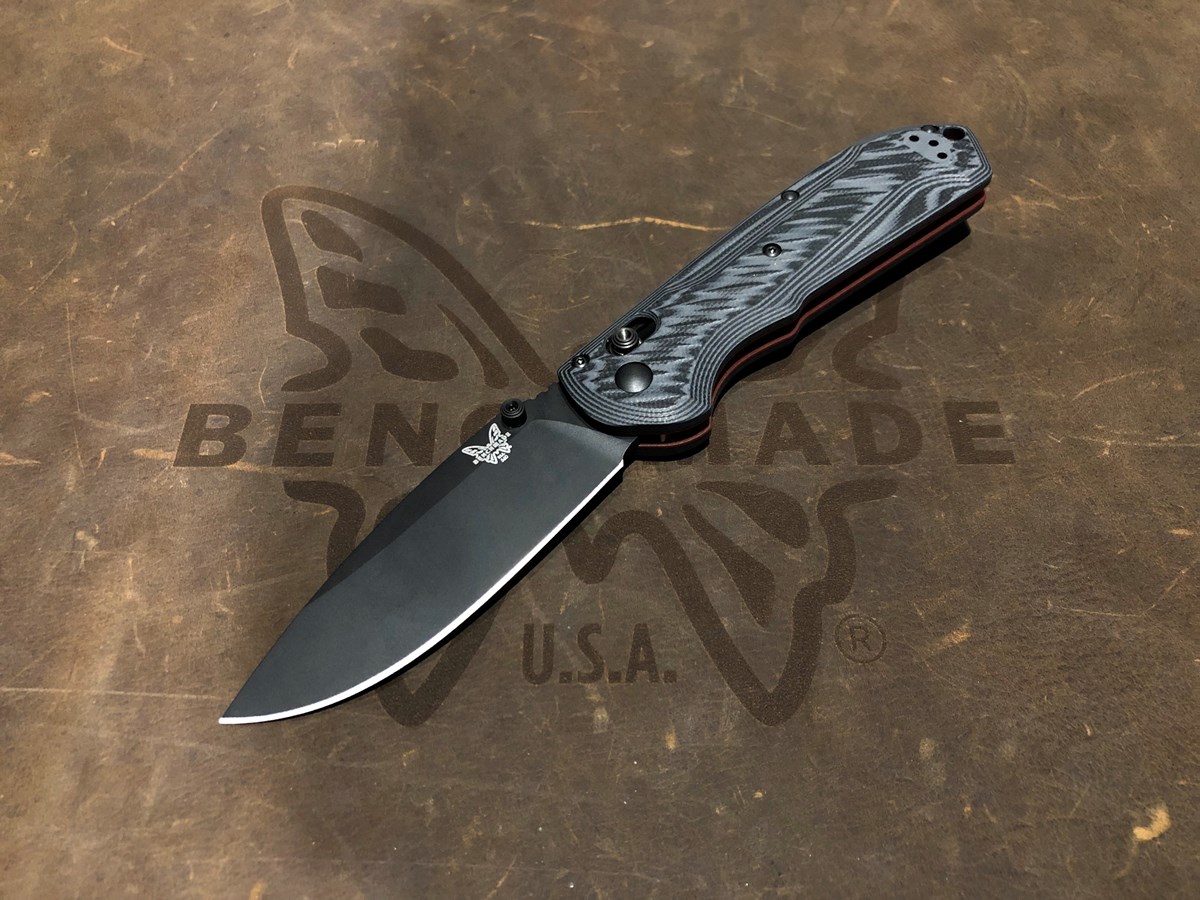 The Benchmade 380 Aller
The most unique new knife Benchmade introduced at the Shot Show is the 380 Aller. A small pocket knife with a frictionfolder mechanism, designed by French knife makers Patrick Famin and Eric Demongivert. Even though we decribe the Benchmade Aller as a pocket knife you could also call it a multi-tool. The Aller has been enhanced with six tools. Namely: a wharncliffe style blade, a screwdriver/crowbar, a micro bit holder, a lanyard hole, a custom pocket clip which also functions as a money clip and a bottle opener at the frictionfolder openings mechanism. This versatile pocket knife was designed for on the road. Considering the fact that the blade doesn't lock when opened the Aller can legally be carried almost anywhere.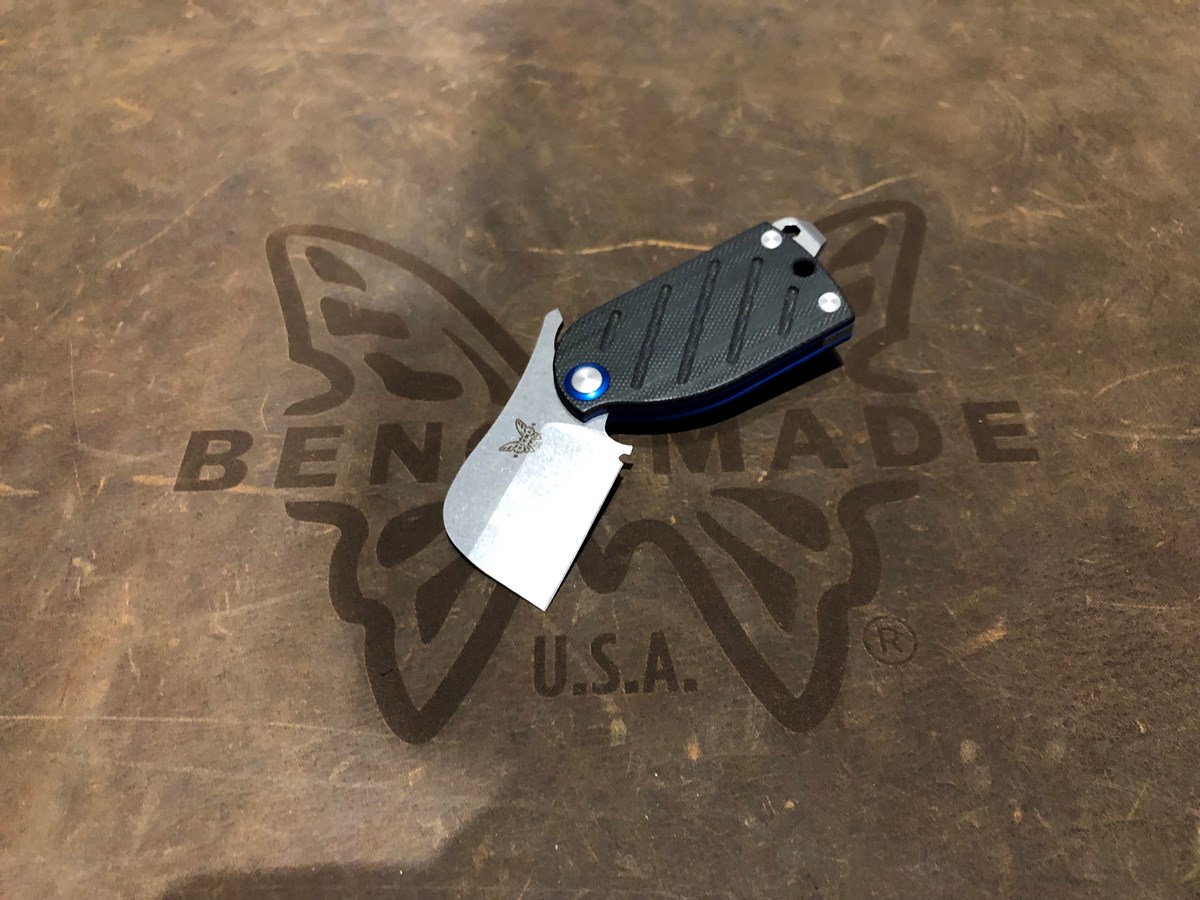 The Benchmade 535 Bugout Gold Class
Each year Benchmade selects one product and replaces everything with top-quality materials. The Gold Class is for Benchmade a way of showing what they are capable of. As such these knives are made by Benchmade's most skilled professionals. This year Benchmade selected the Bugout, which isn't very surprising considering the popularity of the model. For this stunning pocket knife Benchmade chose a Munin pattern Damasteel blade. The handle is made from, what Benchmade calls, 'ghost' carbon fibre and has PVD coated liners. Blue anodized standoffs and a thumb stud complete the package. This Gold Class Bugout is a true work of art!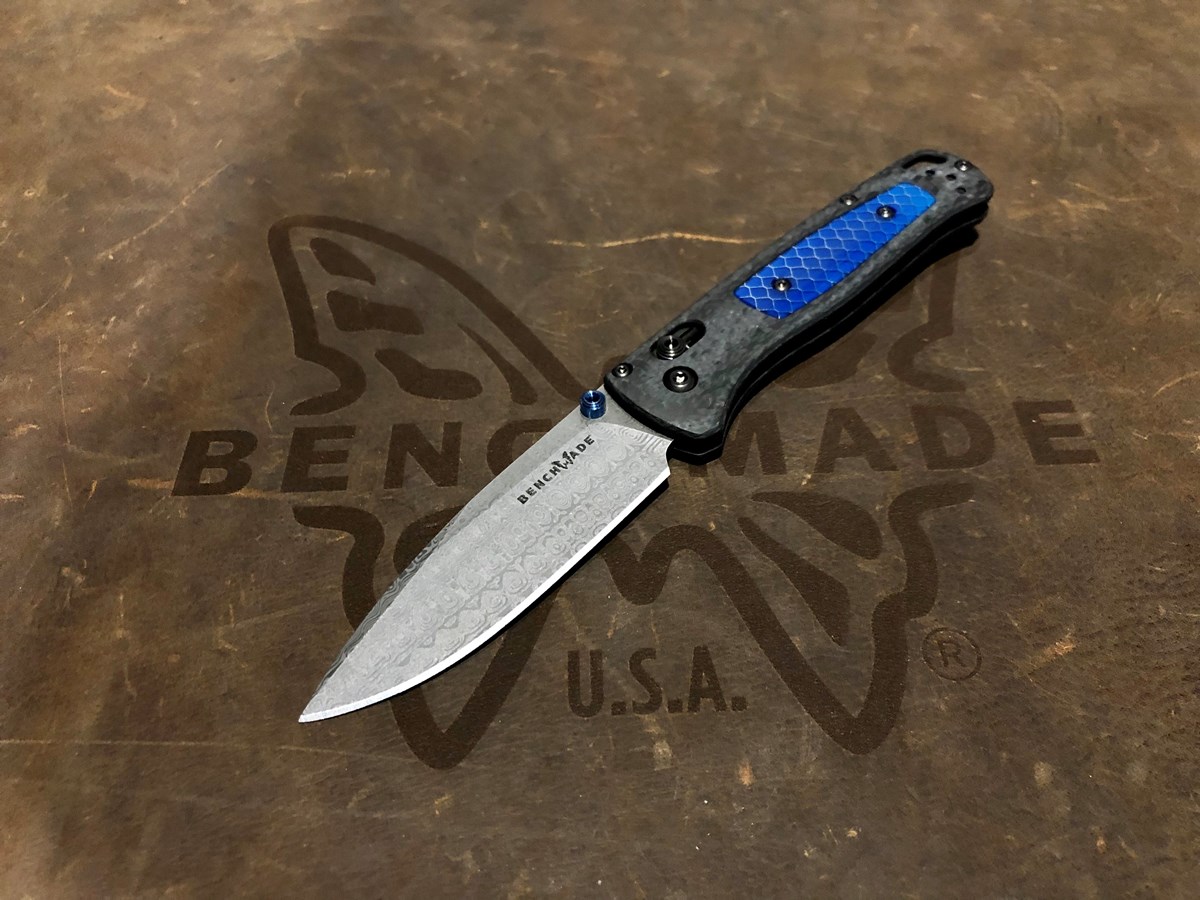 The Benchmade 980 Turret and 365 Outlast
As mentioned before we exclusively interviewed Hans Albing. In this interview he tells more about the featured models and the new Benchmade 980 Turret, 365 Outlast and their new firesteel. Especially the Outlast is very remarkable. It has been enhanced with the new Option lock mechanism. In short, definitely worth a look.
IKWJ6MaECdk
We hope to quickly have these new models in stock. In the meantime we will post multiple topics about the 2019 Shot Show and the newest products. Stay tuned!
Check out all Benchmade knives.
---
<![if !IE]> <![endif]>