How do you choose the right clip for your sheath?
Alright, so you own a knife with a Kydex sheath or plastic sheath. The kind with all those attachment eyelets. Maybe the knife already comes with a belt clip or belt loop mounted on the sheath. Maybe you just want something different? That's why we listed a few options. Keep reading to find out what to look out for when attaching a clip.
New carry options keep popping up, and the innovations in these types of carry options do not stop there. In general, though, four styles can be identified, each with their own pros and cons.
Solid belt clips, like Tek-Loks
Tek-Lok clips are a popular choice for professional users and avid collectors alike. They're made from a durable polymer and offer a secure attachment to belts of different widths. Tek-Lok clips feature a locking mechanism that prevents the sheath from being accidentally released, even during heavy use. Often, they can be adjusted to different belt widths, sometimes even so wide that you can fit them around an equipment belt. Tek-Loks offer a multitude of mounting holes, which is very convenient. Usually, these holes are 12.7 mm apart (half an inch). With a Tek-Lok, you carry a sheath vertically or horizontally on your belt, and thanks to its width, the sheath does not tend to tilt this way or that.
Clips with grip, like UltiClips
Ulticlip is another popular option known for its versatility. Unlike traditional belt clips, the Ulticlip attaches onto clothing or other materials without the need for a belt. Although it's often still possible to clip them to a belt if that's what you prefer. This makes the Ulticlip the perfect choice for people who want to carry their knives discreetly in the pocket, or even inside their waistband. Ulticlip is designed to provide a strong grip, even on thin fabrics. It is also adjustable for different carrying angles, making it suitable for both right-handed and left-handed users. Conveniently, the UltiClip Slim models are extra narrow, making them fit even on small and narrow sheaths.
Flexible belt loops, also known as IWB Straps
IWB Straps, or 'Inside-the-Waistband Straps', are specifically designed to carry knives on the hip, inside the waistband of your trousers. They usually come with adjustable straps and offer a secure attachment to the sheath. IWB Straps are designed to be discreet and provide a concealed-carry option without the need for additional equipment. As the straps are flexible, they move with you, making for a very comfortable carry option. IWB Straps allow you to carry a knife vertically in your waistband, but also horizontally behind your back with two straps. This is also called 'Scout Carry'.
Hard clips for MOLLE webbing: MOLLE Locks
MOLLE Locks are specifically designed to be attached to MOLLE webbing, which is often used on tactical gear and backpacks. They provide a secure attachment to the sheath and ensure it remains firmly in place, even throughout heavy use. MOLLE Locks are usually made of sturdy nylon or polymer and have an easy-to-use locking system. They allow users to carry their knives in an easily accessible location during outdoor adventures or military operations. In addition, you can usually also attach a MOLLE-Lock to your belt.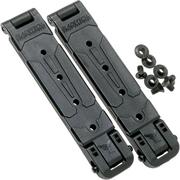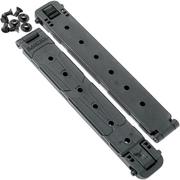 How to choose a clip
When choosing a belt clip for a Kydex sheath, it is important to consider your preferences and the intended use of the knife. Consider aspects like how you want to carry the sheath, attachment options and intended use. Each type of belt clip has its own pros and cons, which can make a difference in terms of comfort, safety and accessibility. It is also important to check whether you can actually attach the clip to the sheath. Often, especially with knives from US brands, a spacing of 12.7 mm or 25.4 mm (half an inch or a whole inch) is used. Many clips are also calculated to accommodate this spacing. General rule of thumb: if you can secure at least two screws, the sheath is well-attached to the clip. If necessary, you can apply some locking adhesive to secure the screws.
Also consider the space available on the sheath. Are the attachment eyelets close to the thick part of the blade in the sheath? Then you may not have enough space for a wide clip. Sometimes this can be solved with rubber spacer rings. Sometimes it works if you simply assemble it a little differently. Sometimes the clip-sheath combination just doesn't work.
It is extra helpful when a clip, or sheath, has a slot in addition to attachment eyelets. It offers just a bit more flexibility in mounting options.
Mounting a carry option: easy mode
Are you having some trouble mounting your clip to the sheath? You can use the UltiClip UltiPlate to make it easier. It offers a wide range of holes and slots, so you'll definitely find a way to attach your clip. Use the UltiPlate on MOLLE-Loks, Tek-Loks or other carrying options from other brands. It also gives you the flexibility to carry sheaths diagonally. It can be a bit of a puzzle, but in the end it almost always works.
Tip: Don't forget to add a set screws and rubber spacers to your order. The set contains different sizes, which you may well need depending on the thickness of the sheath and clip.