Information
Choosing a battery
Do you wish to buy a torch and you are not quite sure which? We recommend first defining your ideal battery. If you choose the battery that best fits in with your use you will enjoy your torch for longer.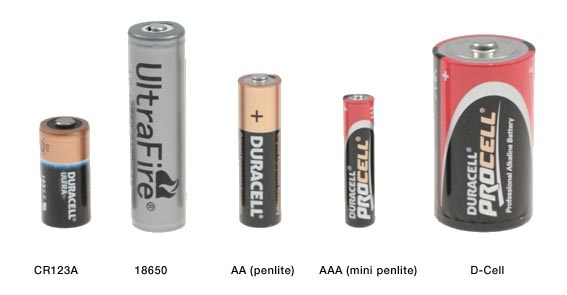 CR123A batteries (non- rechargeable)
CR123A batteries keep their charge a very long time. Even 10 years later they still are full to 90% (providing they have not been used of course). In addition, they never leak, which of course is a great advantage in an expensive torch. The disadvantage of CR123A batteries is that they cost more than alkaline batteries and are not readily available. We sell them at a reasonable price, but if you have to buy them unexpectedly in a photo shop you will pay the full price. Keeping a spare set is recommended.
18650 lithium-ion accumulators (rechargeable)
18650 lithium-ion accumulators are very suitable for people who intensively use their torch. They have a high capacity and are very stress-resistant, with maximum performance in long-lasting bright light.
It is important to immediately recharge the batteries when they are empty and at least once a year. Lithium ion accumulators are slightly prone to loss of charge. When they are not used, they slowly empty. That makes them less suitable for people who use their torch sporadically. Many torches that are suitable for 18650 accumulators can also be used with CR123A batteries. In that case 2 CR123A batteries replace 1 18650 accumulator. That is not always possible however, due to the higher tension of a set of 2 CR123A batteries.
AA (penlite) Alkaline batteries (non- rechargeable)
The Alkaline AA batteries are the most common batteries. They keep their charge for approx. 4 years which is reasonable and they are available anywhere at a reasonable price. A disadvantage is that they actually are not made for the high power modern torches can require, which empties them quickly when used in their highest setting. They also tend to leak which often leads to damage.
AA (penlite) Lithium batteries (non- rechargeable)
Lithium AA batteries are more expensive than alkaline AA batteries but are made to provide high power strengths and therefore last considerably longer than the Alkaline variant under high load.
Almost all LED torches suitable for Alkaline batteries can also be used on Lithium penlite batteries . For torches with a light bulb it is not so sure. Because these torches depend on the features of the battery lithium batteries can lead to burning of the bulb.
AA lithium batteries are not readily available but if they should be empty you can still use Alkaline batteries.
AA (penlite) NiMH accumulators (rechargeable)
AA NiMh accumulators are the famous rechargeable penlites. They are very suitable for use in powerful torches and they are very economic to use. They cannot start leaking, which is a great advantage too.
The NiMh penlite accumulators exist in two versions: a version with a high capacity but high self-discharge too. Those batteries usually have a capacity of 2500 mAh but still only lose some 700 mAh per month when used. They are very suitable for intensive use but less for occasional use.
The 2nd version is one with a lower capacity (around 2100 mAh) but a considerable self-discharge. That is a great advantage if you don't use your torch for a longer period of time. Rechargeable CR123A batteries can be used in many LED torches that are used for CR123A batteries but not for 18650 accumulators. If your torch is suited for 18650 accumulators those should be preferred for their much higher capacity. The characteristics correspond with those of the 18650 accumulators, immediate charging when they are empty and charging once a year are a must too.
AAA (mini penlite) batteries
AAA batteries are smaller than AA batteries and are therefore mainly used in key ring lights. The capacity is approximately one third from that of an AA battery. AAA batteries exist, like AA batteries, in Alkaline, NiMH and lithium and also have the same advantages and disadvantages.
D cell batteries
D cell batteries are thick and heavy batteries known from the large tube lights of Maglite. They are available in Alkaline and NiMH.

There are also new LED torches that use D-Cell batteries: the Fenix TK50 for example. For that light we recommend the use of Tenergy NiMH accumulators with a particularly high capacity. Attention: Many manufacturers of D-cell NiMH batteries use an AA NiMH with a thick cover which makes them low capacity (ca. 2500 mAh instead of 9000 to 10000 mAh). Their life span will then disappoint.

<![if !IE]> <![endif]>