LED torches & batteries
NiteCore SRT-flashlights: SmartRing Tactical-lights for professionals
The NiteCore SmartRing Tactical flashlights, also called the NiteCore SRT-collection, are useful and unique. The SmartRing, located behind the head, enables you to change between the different flashing modes, light modes and colours with one simple turn. Very intuitive!
In addition to a bright-white beam all NiteCore SRT-lights come with different secondary colours. Blue, red, green, and even UV-light. As a result this collection is extremely popular amongst hunters, bobbies, security guards and soldiers. However, there are also many other situations during which you can really use the NiteCore SRT-lights. Why not try them out yourself!
A clever tool
NiteCore has turned the development of how you handle the tool and the reflectors into an art with the SRT-collection. It is remarkable how they were able to allow you to change the intensity of the white light. However, the way NiteCore has placed the LED lights in the reflector is also remarkable. After all, it is quite a challenge to add coloured LED lights around a white LED light without disrupting the white beam. NiteCore was very successful in doing so!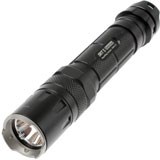 <![if !IE]> <![endif]>