LED torches & batteries
NiteCore Tiny Monster flashlights: these babies give 'bright' a new meaning
The NiteCore Tiny Monster flashlights have been trendsetters when it comes to extreme performance for years.
However, there are also more compact models such as the NiteCore TM03 which, for a flashlight with only one 18650-battery produces an insane amount of light. Is a lot of light still not enough for you? Why not check out the NiteCore TM-collection. After all the Tiny Monsters always offer a little more.
NiteCore TM lights
By using the newest LED lights and production techniques the NiteCore TM collection has been popular amongst flashlight enthusiasts for years. The engineers at NiteCore constantly try to come up with new things in terms of how you use the LED lights. In addition to how they can use batteries to get the best and most powerful result possible. Furthermore, the form and finish of the reflector is worked out perfectly. The result is that there are NiteCore TM lights for practically any purpose, whether you are looking for a wide and full beam, or for a thrower with a reach of a km.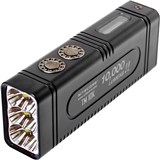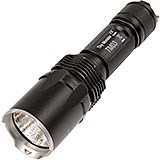 <![if !IE]> <![endif]>