Shapton Glass Stone sharpening set grit 500, 2000 and 8000, 50308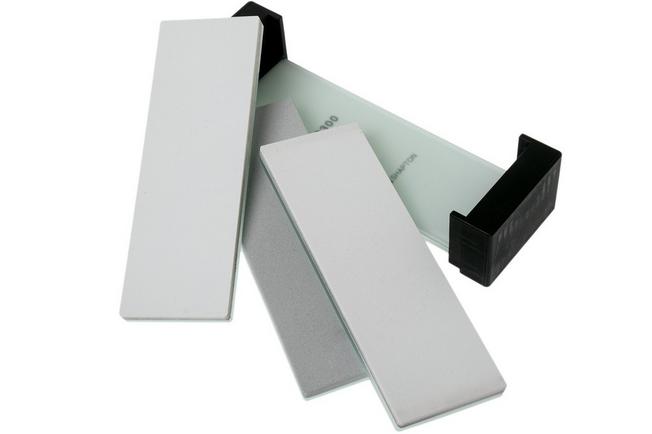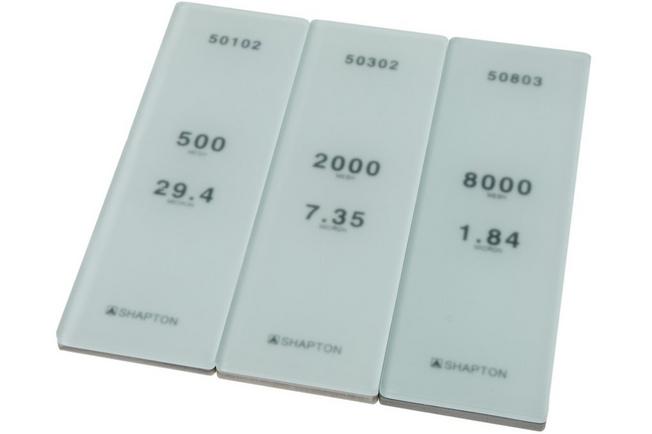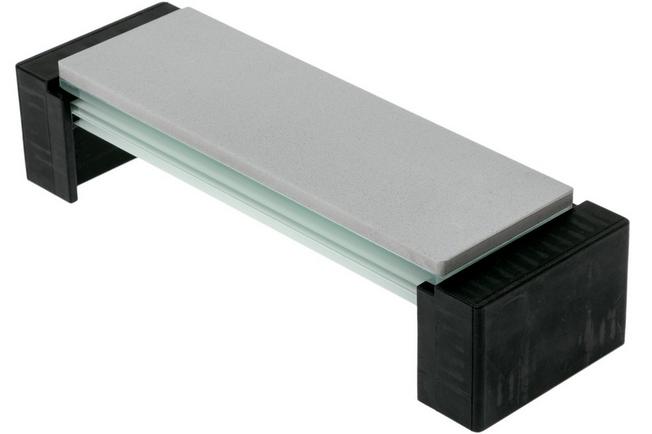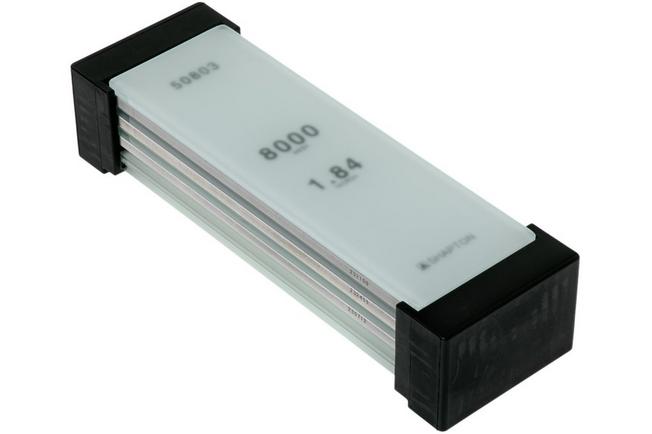 Shapton Glass Stone sharpening set grit 500, 2000 and 8000, 50308
In stock
Ordered today, shipped on Monday
All prices include VAT, fees and charges
Fixed shipping rate of £8.50 for all orders
We ship from the Netherlands
Our customers give us a 4.7/5
Full description
This Shapton Glass Stone will give you a shiny polished blade. Exactly what you might expect from a high-quality sharpening stone. However, unlike what the name might suggest you won't sharpen on glass. You sharpen on a high-quality Japanese water stone enhanced with a layer of low tempered glass to make sure it won't bend. This stone can be used to sharpen practically any type of knife. From outdoor knives to kitchen knives and from pocket knives to chisels. Especially when you have a hard type of steel these stones will stand out. Think of the modern types of powdered steel you often find in high end pocket knives.
Specifications
1,84 micron, 2000, 29,4 micron, 500, 7,35 micron, 8000, coarse, medium, super fine
Reviews
Adrian, Leamington Spa
Friday, 17 June 2022
I am not an expert, but I have some experience sharpening all my knives by hand. Immediately I noticed how fast the stone "cuts". It's absolutely amazing! With my old stones, I would spend hours and suffer from back pains, not to mention all the "mud" that get's everywhere around the kitchen to my despair plus no time wasted on soaking the stones: Splash-n-Play, baby! The price is a bit high, but it is reflected in the quality and that I can accept. The 500/ 2k/ 8k combo it's amazing: you can reach a razor-sharp level, in minutes, instead of hours. My ultimate test is the arm shave; if it can easily shave it's good enough for my kitchen! I would definitely recommend the product line and combo!
---
d simpson, scarborough
Tuesday, 8 February 2022
Arrived on time. This product weighs a lot. It comes nicely packaged and I'm impressed with the look of the Shapton unit. It looks classy. It's nicely made and I like the way the sharpening stone holder also becomes the storage unit for all the stones when finished. My first time using a sharpening stone of any description but online videos helped me get my bearings. It took a few attempts to get the correct angles for sharpening but I got there in the end and sharpened all my Japanese kitchen knives and some old Sabatier knives as well. No real instructions came with this product on sharpening or looking after the stones IE - leveling after prolonged use.
---
Marta Torres, London
Tuesday, 7 July 2020
Exelent stones, for sure the fastest I've ever used and is compact. They don't seem to dish fast so don't be scared if they look thinner than others.
---
Juan**, London
Thursday, 21 June 2018
**There are a great many conflicting opinions about these products and I understand that I may be contributing more to the confusion by adding my experience, but here it is anyway, as somebody might find this useful. Once I received the products, they immediately went to work. Eight (blue and white steel) single bevel knives and five (stainless) double bevel knives. All of these were given a fresh edge and used all three stones. Subsequently, I've used the 500 about a dozen times (only for single bevel), the 2000 for touch ups (a bit more), and the 8000 about half that many times. The 500 has worn down considerably leaving about half of its original thickness due to levelling more often. I primarily use single bevel knives and prefer a relatively flat surface to sharpen. I level the stone after every two to four knives, approximately. Less on the 2000, and much less for the 8000. In terms of experience, I prefer it over (my favourite) Naniwa 400—which is a surprise—as it is slightly larger and I feel (admittedly subjective) it cuts material faster and I actually prefer its feedback, oddly enough. The 2000 was also a surprise as I am able to touch up and polish (to an extent) in a pinch with the same stone without going through my regular (2-4 stone) progression. Due to this, the 8000 gets much less use and is sure to last longer than both. A thing about the stone holder; it's best suited to store the stones and not to use actually sharpening on. It is well made but quite light, making it unwieldy. Would I buy these again? Sure. Perhaps two 500s to go along with the 2000 and 8000 (or 6000) as my use case requires it. Is it economical? Probably not in a monetary sense, then again, in my case, there are not many affordable high quality choices. I do like that they are practically splash and go and cut steel faster than my previous stones, so in that way, I do spend considerably less time sharpening, at least in total. I would like to know if these are still currently in production as an acquaintance from overseas told me in passing recently that they may not be. The website shapton.co.jp is still online but would still like to know for sure if they are still in fact in operation.
---
Specifications
Features & functions
1,84 micron, 2000, 29,4 micron, 500, 7,35 micron, 8000, coarse, medium, super fine
yes, create wet surface before using
Coarse (220-600), Fine (1000-3000), Ultra fine (5000+)
Shapton Glass Stone sharpening set grit 500, 2000 and 8000, 50308
In stock
Ordered today, shipped on Monday
All prices include VAT, fees and charges
Fixed shipping rate of £8.50 for all orders
We ship from the Netherlands
Our customers give us a 4.7/5