Pocket knives & multitools
Italian pocket knives: timeless designs and pure elegance
Italian pocket knives belong to the best in the world. Distinctive designs and premium materials merge in these European top-quality products.
Many people initially think of cars, architecture, fashion, or furniture when thinking of Italian designs. However, in terms of knives Italy has become more and more influential. Producers such as LionSteel, Viper, FOX, Maserin en Extrema Ratio are world famous for their adaptations of Italian designs.
Maniago: Capital of Knives
What Solingen means to Germany, Maniago means to Italy. This city in the north-east of Italy has been known as the capital of knives for dozens of years. Pocket knives, kitchen knives, scissors, and other kinds of cutting tools are produced here. As such Maniago is a goldmine in terms of knowledge and experience when it comes to manufacturing knives.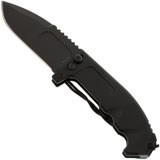 <![if !IE]> <![endif]>