Pocket knives & multitools
LionSteel knives: detailed innovative design from Italy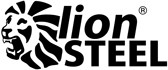 LionSteel is an Italian knife brand with an eye for design. Many knives are decorated with typical grooves in the handles created with CNC lathes.
Innovative techniques like the RotoBlock System where a pocket knife (almost) is transformed into a fixed knife are frequently applied. There is a choice from different materials like titanium, aluminium, micarta and various luxury wood types.
LionSteel might be the best manufacturer in Europe...
LionSteel makes fixed knives and pocket knives for a wide public. From hunters, outdoor enthusiasts to amateurs of gentleman's knives: the range is extensive. LionSteel has perfected all the knives up to the last details in co-operation with Italian designers and 'regular' users.

These pretty knives are not mass produced. The knives are only made to order. That reduces the stock expenses and the knives can still be sold at affordable prices despite the elaborate manual work. The delivery time can be slightly longer.

<![if !IE]> <![endif]>