Pocket Knives & Multitools
Premium EDC knives: the coolest knives made from the best materials
Premium EDC knives are amazing tools that are definitely worth showing off. A lot of attention is paid to the design and the production quality. Knives you can be proud of. Sometimes there are even limited editions made available, which is always very cool.
Premium EDC knives: where custom designs and production knives meet
In the category of Premium EDC knives you will find a lot of cooperation between knife brands and custom knife makers. These custom designers often only produce very exclusive knives in very small numbers. To make a knife more accessible they often work with a knife brand that turns the custom design into a production knife. Famous knife brands that do this are Böker, Benchmade and Spyderco.
Information
What determines the price of a pocket knife?
Pocket knives come in all shapes, sizes and price ranges. Whether you store your knife in a display case, caravan, toolbox or carry it with you every day: for every purpose you will be able to find a pocket knife. When you start looking for a suitable pocket knife you will find knives which will only cost you a little, but also knives that will take you back 300 pounds or even twice as much.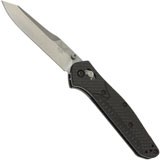 <![if !IE]> <![endif]>