Böker Saga Stonewash kitchen knives: ultimate sharpness in your kitchen
The brand Böker is mostly known for their amazing and sharp outdoor knives. However, the Böker Saga Stonewash kitchen knives are definitely not inferior to the outdoor series in terms of sharpness and ease of use. The Böker Saga series features a unique and distinct design thanks to Danish knife maker Jesper Voxnaes. The stonewash finish makes the Böker Saga knives real eye-catchers! The indestructible handles are also unprecedented in the kitchen. Böker Saga: outdoor features in your own kitchen.
Read more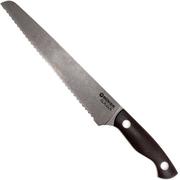 Features of the Böker Saga Stonewash series
Böker Saga Stonewash blade
The blade is made from stainless 440C steel, which is a classic, stainless type of steel from Germany that has been used in the knife world for many years. In addition, you can easily sharpen it yourself if the knife starts to lose some of its sharpness over time. The blade is enhanced with a stonewashed finish. This is a matt-looking finish that makes scratches and imperfections less noticeable. It also looks really cool. The razor-sharp blade has a flat grind. The blade runs throughout the entire handle. This ensures that the knives are perfectly balanced, making them amazing to use.
Böker Saga Stonewash handle
The ergonomically shaped handle is made from black G10. G10 is a material that is often used for outdoor knives, but quite remarkable in the kitchen. A strong and light-weight material made from fibreglass and synthetic resin. It is waterproof and resistant to discolouration. It is practically indestructible! The holes in the handle are typical for a Jesper Voxnaes design.