Lion Sabatier knives make you work like a French top chef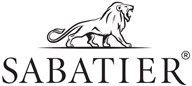 Lion Sabatier knives are made in Thiers. The Sabatier brand is famous for Sabatier kitchen knives and is carried by several knife makers. The most famous brand is Lion Sabatier, followed by Diamond Sabatier for example.
When you buy a Lion Sabatier knife you buy French tradition for your kitchen. The brand was registered in 1812 and is still leading for knives from Thiers.
Recognisable quality
The Lion Sabatier kitchen knives are made of stainless steel that remains sharp for a long time and is easy to sharpen. The recognisable handles with brass rivets are dishwasher safe.
Idéal or Edonist-series
Lion Sabatier has two beautiful series: Idéal and Edonist. Will you choose the classic, traditional Sabatier-knives? The best choice would then be the Idéal Inox-series. The Edonist-series is comprised of contemporary versions of the traditional Sabatier-knives. A good choice if you have a preference for sleek and modern design. The knives of the Lion Sabatier Edonist-series are available with a black or a white handle.

Both series make use of modern materials. X50CrMov15 stainless-steel is used for the blade and durable POM-plastic for the handles. Modern materials that are maintenance-friendly and easy to use. You'll be certain of the right choice!

<![if !IE]> <![endif]>