LED torches & batteries
Flashlights for professionals
When you start using your flashlight professionally you know that your flashlight should meet different requirements than if you were to use it at home. For that reason the professional flashlights we have selected here are chosen based on a combination of important factors. These lights are often easily manageable, light-weight and have a small beam for up-close. These lights are particularly perfect for electricians, mechanics, technicians and on the construction site.
ATEX-flashlights for professionals
ATEX certified flashlights are used in the industry. They are designed as such that the risk of potential sparks or generation of heat is limited to a minimum. For that reason they are also called 'explosion-safe flashlights'. These lights are often used on oil rigs, in the mining industry and installation and energy sector.
Important accessories
When you use a flashlight on a professional level you will notice that certain accessories are indispensable. Think of, for instance, a holster you use to store your flashlight, diffusers or filters for the right light and switches that enable you to use the flashlight remotely. For professional use a gear retractor could also definitely come in handy. You attach the flashlight to the retractor and you will always have it close. Grab it, use it and release when you are done. Never worry about storing it ever again.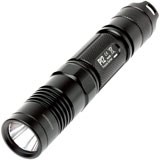 <![if !IE]> <![endif]>