Kitchen blow torches: practical and efficient!
You probably associate kitchen torches with the beautiful, brown layer of caramelized sugar on crème brûlée or flambéing a dish, but you can use the burner for lots of things. Roasting peppers, melting cheese or finishing a meringue. Gas burners are versatile and give you absolute control over flame intensity.
Read more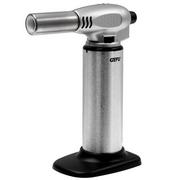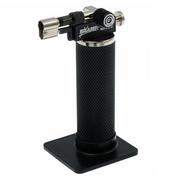 Features of kitchen torches
Fuel: a kitchen burner often runs on butane gas. You can refill the gas cartridge when it's empty.

Control: you can adjust the size and intensity of the flame as necessary.

Ignition: you do not need matches or lighters to light the burner thanks to the so-called Piezoelectric ignition.

Even suitable for outdoor use: some burners have a wind-resistant flame.

Safety: micro-burners feature a safety lock and are made from heat-resistant materials.

A rock-solid handle: this ensures that you have a good grip of the burner.
Not just for desserts
No, you don't have to make an infinite amount of crème brûlée for this investment to make sense. You can do much more than just caramelize a sugar coating with a kitchen burner. For example, in Asian cuisine these burners have a different use. There, the device is mainly used in the preparation (flambé) of fish and meat dishes. And what about dishes with cheese? A crunchy upper layer is a real must for many ingredients!
Compact and portable design
Kitchen burners are usually compact and easy to handle. They often have an ergonomic design that fits comfortably in your hand, allowing you to aim the flame precisely at the ingredients you want to reach. In addition, many gas kitchen burners are portable thanks to their convenient design and size, and they're easy to refill with butane gas. It's available at most supermarkets. This makes them nice to use in different locations, such as catering events, outdoors or while camping.
How do you choose the best kitchen torch?
It is important to invest in a good kitchen burner, especially if you are going to use it for more things than just your crème brûlée. The burner should feel nice in hand, making it easy to handle. In addition, it is a good idea to get one that is easy to refill with a kind of fuel that's easy to obtain. This will prevent you from buying a kitchen tool only for it to gather dust on the shelf.
Easy to control
A kitchen burner offers a direct and concentrated heat, allowing you to efficiently caramelize, roast or flambé a dish. On nice days, a gas burner is a real must-have to quickly light your barbecue.
Always be careful
Always be sure to follow safety instructions when handling a gas torch and be mindful of the environment in which you are working.
Frequently asked questions about micro torches